We're Taking the Next Step for Our Growing Footprint
Having the right things in the right places is a maxim we all want to do business by, and it's certainly a crucial factor for our service delivery capabilities at The Macomb Group.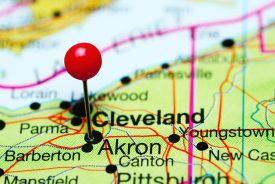 That's the thinking that underpins our Valve Automation Division structure — and the reason we just opened a new Akron, Ohio, facility to join our three existing locations in Midland and Livonia, Michigan, along with Matthews, North Carolina.
One of the reasons we established the division is to bring greater access and exposure to the full range of The Macomb Group capabilities as our footprint continues to grow.
Having assembly capabilities and inventory placed in multiple strategic locations serves that goal. It gives us greater presence in each region, which many of our customers demand. It also allows us to tailor our capabilities and inventory to Macomb customers' unique geographical needs.
Macomb experts at each facility stock a wide component variety for completely automated valve package assemblies — using our principal brands — for same-day, on-demand, high-quality service.
Interest and understanding
Valve Automation Division Director Scott Henegar explains, "Bringing our capabilities closer to the customer provides both our internal customers — Macomb branch and sales personnel — as well as our external customers some interest, understanding, and confidence in our capability that they may not have had otherwise, servicing from a distant centralized location. It has also helped us identify and develop which products and services the division can offer by being more in tune with the automation needs of different regions."
This is just the start. As the new division strengthens awareness of Macomb as a principal valve automation product source, we're preparing to build on our existing quarter-turn, on/off, electric, and pneumatic actuation product inventory legacy.
During 2017, we'll become more engaged in multi-turn, linear, as well as control applications and have already begun the process of engaging suitable manufacturers and support personnel.
As our geographic footprint gets larger, so does the pace of our activities!