Valve Actuation and Automation? That's Our Specialty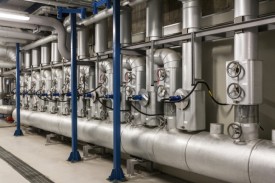 The Macomb Group is proud of the extraordinary value that our Specialty Divisions bring to our customers and our company. Staffed by highly experienced professionals with deep industry knowledge, each specialty area allows us to craft top-quality solutions for niche customer needs.
As our company has grown, we have been looking for ways to extend the reach of this expertise. Now, with the appointment of Director of Specialty Divisions Scott Henegar, we have begun the process of formalizing our specialty programs with the intent of improving access to all of our branch locations throughout The Macomb Group.
The Director role is a new one for both Scott and for the company. The ultimate goal is to provide oversight for all of the Specialty Divisions. Scott is starting by focusing on the Valve Automation Division.
"We have some people with deep industry expertise, and we are looking forward to bringing those capabilities to other geographic areas within Macomb that haven't fully benefitted from what we can do," he says. "We are excited to bring value to a broader scope of customers, both internal and external."
Why start with valve automation?
The Macomb Group has seen increasing opportunities for valve actuation and automation assemblies. We have also been working on increasing access to some attractive name brands — premier or "flagship" valve lines from well-known manufacturers — that will allow us to build alignment and name recognition for the valve services we offer.
"Given both these opportunities, we saw the need to really formalize the processes within that Division so that we can duplicate them and expand access across the company," Scott says.
The initial steps of our project involved preparing for changes behind the scenes. For the first 60 days, we worked on identifying and solidifying our relationships with key manufacturers.
"One of the main goals is to be identified with brand names," Scott explains. "When thinking of Macomb Valve Automation, both our internal customers within the company and our external customers, you should automatically be thinking of those names."
For our customers, the association with trusted brands will help them to clarify their expectations, come to us with an understanding of the quality of what we're doing for them, and get the knowledgeable service and extensive inventory they expect.
"With brand identity to quality manufacturers, our sales team will be able to meet specific customer needs," Scott says. "For our assembly techs, having relationships with certain manufacturers means we can pre-stock all the parts we'll need and have in place a streamlined workflow to make our services more efficient."
Currently, Scott, IT, and the Valve Automation group are busy creating part numbers and building inventories in the locations that will be offering valve actuation and automation assemblies.
"The Division started in our Livonia, Michigan, location, and we've just set up another facility in our Midland, Michigan, branch. We're also looking at a third Valve Automation facility location in Ohio, but we haven't selected the location yet," Scott says.
Valve automation is coming soon to a location near you!
So far, all the work in this effort has been behind the scenes.
"But in early 2016, you'll start to see marketing and messaging talking about our alignment with key manufacturers and describing our capabilities for valve automations," Scott says.
The most important part of formalizing and duplicating the services of Specialty Divisions is finding the people. Scott and the Valve Automation group know that just as with everything The Macomb Group offers, it's the people who make our Specialty Divisions … well, special.
"The easy part is setting up the facility," Scott says. "The hard part is finding the right people with the right experience to deliver those services to our standards. It's the people who really make our Valve Automation and other services work."